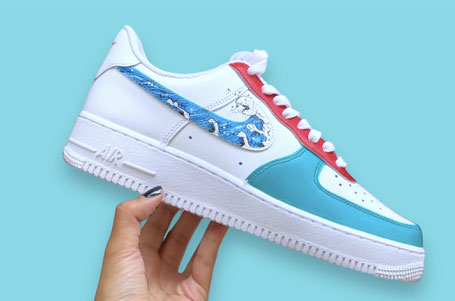 Welcome to the vibrant world of artistic sneaker customization, nestled on the stunning French Riviera in Mougins, just a stone's throw away from Cannes and Antibes.
Since 2015, my atelier has been a hub of creativity, welcoming individuals from around the globe to experience the fusion of art and footwear. Immerse yourself in a kaleidoscope of colors and innovation as I transform sneakers into personalized masterpieces that reflect your unique style.
Discover my Atelier in Mougins:
Located in the heart of Mougins, a charming village renowned for its artistic heritage, my workshop stands as a testament to the beauty of self-expression. Situated on the enchanting Côte d'Azur, our proximity to Cannes and Antibes makes us easily accessible to both local enthusiasts and international travelers seeking an unforgettable experience.

Unveiling Art and Colors:
At my atelier, art and colors reign supreme. My journey began in 2015 with a passion for reimagining sneakers as more than just shoes – they're wearable canvases. Each brushstroke carries a piece of the artist's soul, and every hue tells a story. From classic designs to bold and abstract creations, my artistic approach ensures that every pair of sneakers is a one-of-a-kind masterpiece, a true reflection of your personality and style.

Global Reach:
While my physical atelier is nestled in Mougins, my creative reach knows no bounds. I've had the privilege of serving clients from all corners of the world, transcending geographical limitations through our online platform. Whether you're strolling the streets of New York or exploring the markets of Tokyo, my custom sneakers can be yours with just a few clicks.
The Customization Process:
My process is an enchanting collaboration between artist and client. Starting with your vision and ideas, my skilled artisans meticulously craft the design concept. Whether you desire a minimalist touch or an explosion of colors, I pour my passion into every detail. My expertise extends to the iconic Air Force 1 silhouette, a canvas that's been a favorite among sneaker enthusiasts.

Order Your Custom Sneakers:
Ordering your custom sneakers is a seamless journey. Visit my website to explore my gallery of past creations, drawing inspiration for your unique design. Choose from a range of themes, from nature-inspired motifs to pop culture references. If you have a concept in mind, I'm ready to bring it to life. With global shipping options, your personalized sneakers will find their way to your doorstep, no matter where you are.


Embark on a journey of self-expression and creativity with my bespoke sneaker customization atelier in Mougins. Let your feet become the canvas for your individuality, and join the ranks of sneaker enthusiasts who have experienced the fusion of art and fashion. Whether you're in Cannes, Antibes, or anywhere else in the world, my art atelier is here to transform your sneaker dreams into reality. Step into a world where sneakers are more than just footwear – they're a masterpiece in motion.
Mougins artists village, near to Cannes and Antibes